Podcast: Play in new window | Download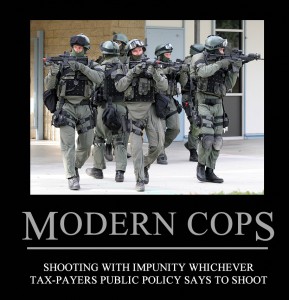 Do you hate scum bags like the ones wearing badges in this story? Do you resonate with the title of this post? Do you see a link between cops and this drone operating murderer? Then tune in on August 4th for our interview with Robert Fingolfin as we discuss the despicable ranks of local law enforcement. This will be an absolute barn-burner show!
Check out Robert's excellent articles on the Constitution and vaccines at Faith and Heritage.
Note: This show will not feature my first "rant" segment. The whole hour (and probably beyond) will be our guest interview.
Links:
Outline:
Issue

Time

Commentary on two stories: a) Man killed in Florida by cops; 2) Blacks and Mexicans running amuck in Chicago

2:20

Cops planting spare guns to cover their tails

8:25

Cops have low IQs, no longer peace officers but "law" enforcement procedure-based officers

11:17

Rule of  Law and Orderliness model, rather than Justice model

12:39

We should be more results focused on results rather than how we get there

14:56

Four major, inherent, systematic flaws with modern law enforcement

monopoly on force
problems of having an organization investigate itself (22:30)
problems with no accountability, an example being the lead story above (26:44)
problems of preserving the truth in a system which the employees are to be professionally, paid witnesses in a court (29:00)

16:18

All four above issues stem back to Total Depravity

31:06

Size and scope of LE, and its enormous tax liability and burden

33:15

Feminized Christianity's worship of the State (public school teachers, soldier boys, cops)

36:39

Other theological issues pertaining to the police system

37:22

My experience applying for State Police & polygraphs

41:25

Societal issues that the current LE model creates:

The neutered male caused by the full-time cop with special powers (56:19)
Weakened communities (58:35)
Caste system (1:00:55)
Standing army problem (1:03:40)

47:50

The definition and need for posses; volunteer (fire department) model of LE(1:04:20)

Does the posse/volunteer model work in multicultural and segregated societies? (1:07:00)

1:04:20
Comments
comments