Time Line
| | |
| --- | --- |
| Date | Event |
| 4/27/1913 | Mary Phagan found dead in the National Pencil Factory of Atlanta, Georgia. |
| 5/24/1913 | Leo Frank indicted by grand jury for murder. |
| 7/28/1913 | Trial begins before Judge L. S. Roan. |
| 8/22/1913 | Solicitor-General Hugh Dorsey begins 3-day closing address. |
| 8/25/1913 | Jury finds Frank guilty. |
| 8/26/1913 | Frank sentenced to hang on October 10, 1913; Defense moves for new trial. |
| 10/31/1913 | Judge Roan denies motion for new trial; Execution date moved to April 17, 1914; Defense appeals to Supreme Court of Georgia. |
| 2/17/1914 | Supreme Court of Georgia unanimously overrules motion for rehearing. |
| 4/6/1914 | Defense files motion to set aside guilty verdict to Fulton County Superior Court; Execution moved to January 22, 1915. |
| 6/6/1914 | Fulton County Superior Court denied the motion to set aside the verdict. |
| 2/25/1915 | US Supreme Court hears arguments on Leo Frank's appeal. |
| 4/19/1915 | US Supreme Court overrules motion for rehearing by vote of 7-2; Execution later moved to June 22, 1915. |
| 6/20/1915 | Governor Slaton commutes Frank's sentence to life in prison. |
| 8/16/1915 | 25 armed men take Frank from State Prison. |
| 8/17/1915 | Frank hanged. |
Cheat Sheet
| | |
| --- | --- |
| Name | Significance |
| Adolph S. Ochs | "Non-Jewish" Jew turned explicit Jewish advocate; publisher of NY Times; probably responsible for Frank's lynching and the resurrection of the Klan. |
| Albert Lasker | Jew; Head of Chicago public relation firm, orchestrated public opinion to get Frank case overturned. |
| Christopher Powell Connolly | Irish Catholic Northerner, Launched quote: "Kill the Jew or we'll kill you" |
| David Marx | Jew Rabbi in Atlanta who heads to New York to gain support from wealthy Jews. Said the Frank case was a modern "Dreyfus" case, that evidence against Frank was prejudice and perjury and jury was intimidated. |
| Hugh Dorsey | State Prosecutor; questioned Frank's moral character on trial and was town hero after court victory. |
| Jacob Schiff | Most powerful Jew in America; helped fund and launch national anti-South and pro-Frank propaganda. Note: Funded the Russian Revolution; Al Gore's daughter married into this family. |
| John Marshall Slaton | Georgia governor; bombarded by Jew-engineered letter campaign from Senators and Governors and other notables to commute the sentence of Frank; Member of same law firm with one of Frank's lawyers; Eventually commutes Frank's sentence to life in prison. |
| Judge L.S. Roan | Frank's trial judge; moved by Dorsey's case; sentenced Frank to hang and denied motion for new trial. |
| Louis B. Marshall | Jew; President of American Jewish Committee. Strong Jewish advocate who helped fund and launch national anti-South and pro-Frank propaganda. Note: In 1911 persuaded US to abrogate treaty with Russia which prevented American Jews from freely conducting business with Russia (weapons and money). |
| Luther Z. Rosser | Jew; Frank's Attorney. Called negro Conley to race baiter. Called Conley alying ,dirty nigger whose big nose had sniffed much cocaine. |
| Rae Frank | Leo Frank's mother; Calls Dorsey a Christian dog in court. |
| Ruben R. Arnold | Jew; Frank's attorney. Race baiter. Called for mistrial due to jury intimidation. |
| The Augusta Chronicle | Local Paper that opposed Watson's rhetoric, but also opposed Jewish propaganda and slander of South. |
| The Georgian | Initially objective paper, but reversed previous position upon Jewish demands and asked for retrial. Owned by Hearst and became dedicatedly pro-Frank. |
| The Jeffersonian | Atlanta paper. Small circulation at beginning of trial. Spoke for the people. Spoke out about the bribes. |
| The New York Times | Jew paper that caved into Jew pressure to nationally campaign for Jewish advocasy and Frank's acquittal/pardon. |
| Tom Watson | Editor of Jeffersonian; wrote for the people, stongly opposed and called out the Jews for engineering/funding pro-Frank campaign. |
| William J. Burns | Highest paid detective in the country; used Jew money to bribe witnesses to get Frank released. |
| William Randolph Hearst | Owner of the Georgian who sold out to Atlanta Jews and changed editorials to portray Frank as victim . |
| "Kill the Jew or we'll kill you" | Lie made up by press in attempt to exonerate Frank. Originated by Connolly |
| "The Truth is on the March" | Propaganda slogan began appearing across the country, allegedly originating from of Frank. |
Print Timeline and Cheat Sheet
T
he Leo Frank case is little known to the average American, though its political and practical effects are felt daily. The Frank incident is microcosmic in that the events surrounding and following the trial typify a negative pattern of Jewish enculturation on European soil and the reasonable but castigated reactions by the settlers. It is hoped that greater familiarity with this seemingly diminutive part of American history will do more but not less than illumine the ignorant and the goad the inert.
The Crime and Trial
On April 27, 1913, 13-year-old Mary Phagan was found dead in an Atlanta pencil factory, beaten, bludgeoned, raped/sodomized, and strangled by Jewish factory owner Leo Frank, also head of the local B'nai B'rith. Little Mary was an attractive white, Christian girl who earned a weekly wage of $4.05 putting erasers on pencils. One Saturday when the factory was calm due to a town parade (Confederate Memorial Day), Mary visited it one last time to retrieve her paycheck from Frank at his request.  The next morning factory watchman Newt Lee walked to the basement where he discovered Phagan's bloody body, a cord wrapped around her neck, her underwear lying loose around her throat, and bite marks on her skin. Her clothes were neatly cut exposing her genitals and one breast, and other bodily signs indicated rape and molestation. The experts concluded that this was the work of a pervert. Frank was detained on April 29 and was indicted by a grand jury for murder on May 24, 1913.
Wielding his grand prosecuting skills, State Solicitor Hugh Dorsey invoked powerful testimonies by Negro factory sweeper Jim Conley and several female employees. Conley told how Frank recruited him as a lookout while he violated Phagan, and how he asked him to the help plant the body in the basement along with a forged murder note. He also stated that Frank told him that he would never go to jail for the crime because he has rich relatives in New York: "Why should I hang? I got wealthy people in Brooklyn," Frank told Colney. Phagan's female coworkers reported that Frank would often visit their dressing rooms unexpected, watching them undress and sometimes kissing and fondling them.  A notable and recurring argument from the prosecution was that the defense refused to cross-examine the 20 girls who testified to Frank's immoral character. Dorsey relentlessly accentuated this point, even in his last speech to the jury:
The conduct of counsel in this case, as I stated, in failing to cross-examine, in refusing to cross-examine these twenty young ladies, refutes effectively and absolutely the claim of this defendant that he has good character. As I said, if this man had had a good character, no power on earth could have kept him and his counsel from asking those girls where they got their information, and why it was they said that this defendant was a man of bad character.
…[Y]our common sense tells you that whenever a man can bring evidence, and you know that he has got it and don't [sic] do it, the strongest presumption arises against him. And you know, as twelve honest men seeking to get at the truth, that the reason these able counsel didn't ask those [girls]… was because they dared not do it.1
To overcome the damaging character revelations of their client, Jew defense lawyers Luther Rosser and Arnold Ruben in frantic reaction attempted a race and pity tactic. After his failure to ensnare Colney on the witness stand, Rosser tried to dismiss his testimony with rash character slander. "Colney is a plain, beastly, filthy, lying nigger with a spreading nose through which probably tons of cocaine had been sniffed," Rosser told the jury. At one point during Dorsey's prevailing discourse, Frank's mother would stand up and slur Dorsey as a "Christian dog." Sensing the inevitable, the defense called for a mistrial, citing anti-Semitism and jury manipulation. Rosser lamented to the court that Frank was a lonely Jewish boy from the North without friends in the South, with which he was unaccustomed and in which he was defenseless and helpless: "I tell everybody…that if Frank hadn't been a Jew he never would have been prosecuted. I am asking my kind of people to give this man a fair play. Before I'd do a Jew injustice, I'd want my throat cut from ear to ear." 2  As another basis for mistrial, Arnold claimed that the "the behavior of the spectators throughout the trial had been disgraceful." This was an overreaction to the judge's order to open the courtroom's windows to cool the excessive Georgian heat, which allowed the large town crowd outside to overhear and react to the trial. But the desperation of the defense no more saved Frank than did his alleged innocence.
The verdict came on August 25, 1913 and Leo Frank was found guilty of rape and murder; the following day he was sentenced to hang on October 10th of the same year. The crowd of 5,000 that showed up to hear the verdict championed Dorsey as a hero and carried him through the streets on their shoulders. For the South, this was more than a victory for Mary Phagan, but also a victory for the justice system. For decades following the War of Northern Aggression justice had been scarce due to the North's disenfranchisement of the southern man for his "participation in rebellion," as put in the illegally ratified Fourteenth Amendment. With the victorious and righteous Frank sentence, now the South could get what was right for a murderer without recourse to the Klan or lynch justice. But it was outside the courthouse that a more powerful and sinister campaign for Frank would be revealed.
The Jewish Lobby
Throughout the trial local Jews attacked the popular Atlanta newspaper The Georgian, claiming it provided unfair coverage of the trial. Local Rabbi David Marx traveled to New York to acquire support from other wealthy Jews. He complained that the Frank case was a modern 'Dreyfus' case3 and the evidence against Frank was but prejudice and perjury, repeating the defense's canard that the jury was intimidated. The squawking of Marx and the Atlanta Jewish community was enough to provoke New York Jewish business influence to pull advertising from The Georgian, causing publisher William Randolph Hearst to flip to a pro-Frank stance. The Georgian capitulated to Jewish threats by creating a columnist called "The Old Police Reporter" who would solely write about the trial, thus attempting to propagandize and revise the conscience of the people.
While in New York, Marx had successful meetings with powerful Jews Adolph Ochs, publisher of widely read New York Times, and Louis Marshall of the American Jewish Committee. Prior to the Frank incident Ochs had been opposed to using his Times as a vehicle of Jewish advocacy; in fact, this stance earned him the reputation among Jews as a "non-Jewish Jew."4 But despite warnings from both his Atlanta beat writer and the editor of Georgia's the Macon Telegraph that it would be detrimental to unite around Frank as Jews, Ochs acquiesced and began a national news campaign editorializing for Frank as innocent and against Georgia as anti-Semitic. In the end, no paper wrote more pro-Frank stories than the Times, thus laying a large part of Franks' fate on the shoulders of Ochs.
Louis Marshall, an unabashed Jewish advocate, was concerned with blowback caused by Jewish advocacy for Frank and advised manipulating other non-Jewish papers to write pro-Frank stories. This would offer the illusion that the local papers reflected popular beliefs, thus exonerating Jews from any notions that they centralized the effort. He wrote to IJC board member Irving Lehman:
There is only one way of dealing with this matter and that is in a quiet, unobtrusive manner to bring influence to bear on the Southern press [to create] a wholesome public opinion which will free this unfortunate young man from the terrible judgment which rests against him.5
Some papers began to suggest that Frank did not get a fair trial due to his religion, and others openly called for an indictment of Conley for the crime. This misinformation drive prompted the jury to openly renounce as baseless the charges that their judgment was based on prejudice or fear; it led Dorsey to argue powerfully against the same. Responding to Frank's attorneys' request for a new trial, Dorsey told the judge:
The people were not aroused against Leo M. Frank because he is a Jew but because he is a criminal of the worst type. In the name of the Gentiles of Atlanta, I declare that when the counsel for the defense charges the jury with bias and charges Atlantans with intimidating the jury with a display of mob spirit, they are slandering the citizenship of the entire community.
On October 31, 1913, Judge L. S. Roan denied the motion for a new trial. As Frank's lawyers made plans to (unsuccessfully) appeal the case to the Supreme Court of Georgia, organized Jewry continued to rework public opinion about Frank.
A week later, Jews Jacob Schiff and Albert Lasker entered the fray. Schiff was perhaps the most powerful Jew in America, the managing partner of the merchant banking house of Kuhn, Loeb and Company. He and the AJC committee met at a New York temple and agreed to hire Lasker, a wealthy advertising tycoon from Chicago who had the reputation for detesting anti-Semitism. Lasker was able to pool together $3,000 (the equivalent of $67,000 today) for the Frank cause, split among himself, his father, and Jew Julius Rosenwald, chairman of Sears Roebuck and Company. Lasker would personally end up putting 100,000 (over $2.2 million today) in the fight for Frank. With the help of the Ochs and his Times, the Jew juggernaut for Frank was making speed. But as the publicity campaign for Frank became pervasive it also became noticeably Jewish, and any anti-Semitism that would develop in Georgia was a direct result of Semitism.
Lasker hired William J. Burns, the world's highest paid detective for $4,500 (over $100,000 today) to come to Georgia and investigate the case. This coincided nicely with the phrase from Frank's lips, "The Truth Is on the March," which began feverishly circulating in headlines. The New York Times dubbed Burns "the greatest detective certainly, and perhaps the only really great detective, the only detective of genius whom this country has produced." 6. Burns' entry into the campaign and his subsequent unscrupulous activities would awaken Tom Watson, a lawyer and a brilliant polemicist who acquired the nickname "The Sage of McDuffle County." As the editor for The Jeffersonian in Atlanta, Watson spoke for Georgians, the overwhelming majority of whom wanted Frank to hang. As E. Michael Jones writes, "Watson seemed not only capable but willing to articulate the questions on everyone's mind." 7 Watson began by asking, "Who's paying for all this?" He proceeded:
Does a Jew expect extraordinary favors and immunities because of his race?

In this case, the defendant is taking that position. Anyone who has noticed the New York papers has noticed the persistent efforts made from Atlanta to arouse the Hebrews into believing that Frank is a victim of race prejudice.

Is it wise for the Jews to risk the good name and the popularity of the whole race in the extraordinary, extra-judicial and utterly unprecedented methods that are being worked to save this decadent offshoot of a great people? 8
According to his associate, Burns would begin his work on the Phagan murder by working "day and night directing detectives and securing affidavits" on Frank's behalf.9 But in fact, Burns was using his money to bribe witnesses to recant their sworn testimonies. Local pastor Rev. C. B. Ragsdale withdrew his statement that he heard Conley confess to the murder, maintaining that an agent of Burns' paid him to do so. Proactively, Dorsey put Burns on the stand where the detective admitted that he removed one witness from Atlanta so that the prosecution could not question her. Burns also claimed that he promised another witness a job for his retracted testimony, with the threat that "the Jews would get him" should he fail to comply.10 Dorsey uncovered other examples of witness tampering such as the discovery that one of the factory girls was promised money to sign an affidavit repudiating her testimony as to Frank's debauched character.11
On April 23, 1914, Watson had sounded the horn when the front page of The Jeffersonian read: "How Much Longer Will the People of Atlanta Endure the Lawless Doings of William J. Burns? What Right Has This Sham Detective to Tamper With the Witnesses That Told the Truth on LEO FRANK, THAT FOUL DEGENERATE WHO MURDERED LITTLE MARY PHAGAN?" Burns and his team were convicted of suborning witnesses and Burns' license was revoked by the Atlanta City Council.
News for Frank worsened when on June 6, 1914, four months after the Georgia Supreme Court denied the motion for a new trial, the Fulton County Superior Court rejected another motion to set aside Frank's guilty verdict. But a common pattern continued: where legal recourse failed them, the Jews' propaganda machine marched on.
Albert Lasker then hired Montana muckraker-lawyer Christopher Powell Connolly to write Frank's story, "The Frank Case," which appeared in Collier's Weekly December of 1913 as an 18,000-word article. It was eventually published in 1915 as a book under the title "The Truth About The Frank Case." Connolly in no uncertain terms framed this piece with the presumption of Georgian anti-Semitism and employed multiple appeals to pity. In the foreword he predisposes his readers:
There is but one reason, aside from the peculiarly atrocious murder of Mary Phagan, which made possible the injustice one Frank. Atlanta is still practically untouched by the flow of migration from Europe which has made our Northern cities so tolerant in matters of race and religion. It is ridiculous to protest that there has been no prejudice against "the Jew" in this Frank case. The whole atmosphere of the case reeks with it. You cannot make the Jew have any respect for these protests. He knows the storm when he sees it. Centuries of oppression have made him weather-wise.12
Though tendentious and directed by Lasker, Connolly's article was largely responsible for stirring national sympathy for Frank as well as inflaming sentiments that Georgia and its citizens were involved in an anti-Semitic persecution of the innocent Frank.13 Lasker wrote to a friend:
Outside the state of Georgia the press of the United States, including the leading papers of every city in the South, are editorially agitating public sentiment for the unfortunate Frank. Daily, hundreds of papers are editorially crying that Frank's execution would amount to judicial murder.14
One example of Connolly's biased but unfortunately persuasive article is the origin of the likely engineered phrase, "Kill the Jew or we'll kill you" that would become a popular slogan in pro-Frank newspapers. Connolly claims that on his last day in Atlanta when he was visiting one of Frank's lawyers when the phone rang. "If they don't hang that Jew, we'll hang you," blurted the voice on the other end. As Oney writes, the world was now wholeheartedly in the defense camp.
Though one Georgian paper had heavily jousted with Watson's Jeffersonian, within the state itself a near universal resentment toward Jews solidified as the people perceived that Jewish-owned newspapers were hoodwinking the nation with their harassment of Georgia and fearless lobbying for Frank. Thomas Loyless, editor of the Augusta Chronicle, had inveighed against the writings of Watson and would later argue for a mitigated penalty for Frank. But at one point even he used his paper to accuse Ochs and the Times of slandering Georgians.15 Later appearing in Loyless' paper, former Governor Joseph Brown asked "Are we to understand that anybody except a Jew can be punished for a crime?"
On Feb 25, 1915, the case was taken to the United States Supreme Court. Content with the same jury intimidation argument, Marshall told the Court:
This court has said that there must be a trial before a competent tribunal. A competent tribunal is one that holds the scales of justice impartially, that is not swayed by fear or favor. Here, the trial was marked by prejudice and hostility. Jeers at counsel for Frank were permitted when they lost a point. The crowd almost trespassed upon the jury box, hanging over the jury box, and their whispers were heard throughout the courtroom.
Not unlike the lower court, this one appeared equally aware of the furtive efforts of the defense. Chief Justice Edward Douglass White, former Confederate soldier, asked: "Is it your argument that in a jury trial where the accused is not present, he has not been heard and the trial has been illegal and he must go free?" The Justices upheld the denial of Frank's petition for a new trial by the vote of 7-2 while rejecting all arguments from Frank's attorneys.16 With the defense's final resort exhausted, organized Jewry's last route was to persuade Governor Slaton to commute Frank's sentence.
The Effects of Injustice
Obstinate and determined, wealthy local Jews and Georgian publisher William Randolph Hearst met with Governor John Marshall Slaton, who, interestingly, worked for the same law firm as the Jew defense attorneys; their goal was to campaign for Frank's pardon or commutation. With the editorial help of Jew-owned papers in New York, systematic Jewry assembled massive national letter-writing and petition campaign from US senators, state governors and citizens to Governor Slaton demanding him to commute Frank's death sentence. Bombarded with over 100,000 letters and two million petitions, on Sunday, June 20, 1915, the day before his term as governor ended, Slaton commuted Frank's sentence to life in prison.
The following Monday morning a newsboy was heard yelling, "FRANK'S SENTENCE IS COMMUTED BY SLATON!"  Naturally, the town was morally outraged. That afternoon, Slaton released to the press his statement that he believed Conley was the murderer: "Feeling as I do about this case, I would be a murderer if I allowed that man to hang. I would rather be ploughing in a field than to feel for the rest of my life that I had that man's blood on my hands." After dusk, a 2,000-man armed mob marched toward Slaton's mansion chanting "Pay the governor a call." In Mary Phagan's home town of Marietta, the governor was hanged in effigy on the courthouse square beneath a placard which read "John M. Slaton, King of the Jews and Traitor Governor of Georgia." With the help of the state militia, Slaton escaped and fled to New York where he was received by Jews at the Waldorf Astoria and crowned for his dishonor—much like Hugh Dorsey was heralded by Georgians for his nobility. Slaton would be gone three months:
Following a week in Manhattan, [the Slatons] would repair to the Adirondacks, then travel to Chicago and on to Alaska via the Canadian Rockies. From there, they would journey to San Francisco. After taking in the Pan-Pacific Exhibition, they would hop down the coast to San Simeon, where they would once again be the guests of Hearst. Finally, they would sail to Hawaii.17
On the day Slaton commuted the sentence, 150 Marriettans met at Phagan's grave to form the Knights of Mary Phagan and vowed to avenge the girl's blood. A few days later, Watson's first article following the commutation appeared and further galvanized all who coveted true justice for little Mary Phagan. A few samples from the article typify some of the strongest fury and invective that he had unleashed on Georgia's enemies:
Our grand old Empire State HAS BEEN RAPED!
We have been violated, AND WE ARE ASHAMED!
Our system stood, like Jackson … it was a stone wall.
Jew money has debased us, bought us, and sold us— and laughs at us.
Bought and sold! Cried off at the auction block, and knocked down to Big Money!
ONE LAW FOR THE RICH, AND ANOTHER FOR THE POOR!
Mary Phagan, pursued and tempted, and entrapped, and then killed when she would not do what so many other girls had done for this Jewish hunter of Gentile girls.
Hereafter, let no man reproach the South with Lynch law: let him remember the unendurable provocation; and let him say whether Lynch law is not better than no law at all.
Watson's sentiments were echoed in the people of Georgia who were seething with vexation and resentment—the kind of displeasure that inevitably seeks a reciprocating release. In prophetic crescendo, Watson later wrote "Let the rich Jews beware! THE NEXT JEW WHO DOES WHAT FRANK DID IS GOING TO GET EXACTLY THE SAME THING THAT WE GIVE TO NEGRO RAPISTS!" That same week, former governor Joseph Brown would write in the Macon Telegraph another foretelling line: The time had come for "the people to form mobs."
Indeed it had.
[captiemon id="attachment_780" align="alignright" width="280" caption="The Hanging of Frank"]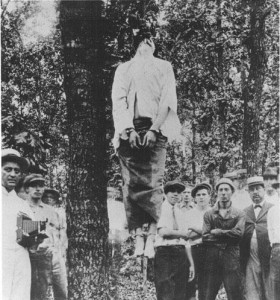 [/caption]
On August 17th, 1915, Frank was seized from the Milledgeville prison by an armed mob, transported to a wood near Marietta and hanged. Watson: "Let Jew libertines take notice. Georgia is not for sale to rich criminals."
Obdurately unaware or unconcerned that their sinister lobbying and politicizing had contributed to Frank's lynching, Jews sprung headlines across the nation condemning not only Georgia, but the South. The Chicago Tribune decried
The South is barely half educated. Whatever there is explicable in the murder of Leo M. Frank is thus explainable. The South is a region of illiteracy, blatant self-righteousness, cruelty and violence. Until it is improved by the infusion of better blood and better ideas it will remain a reproach and a danger to the American Republic.
The San Francisco Bulletin:
Georgia is mad with her own virtue, cruel, unreasoning, blood-thirsty, barbarous. She is not civilized. She is not Christian. She is not sane.
On the contrary, the South was sane and Christian, and unlike the Jews who maligned her, Georgia had a soul. Why should the South, which for decades had been cruelly shattered by Northern hegemony, continue to tolerate additional injustices? If Georgia could not run her own affairs and protect her defenseless, who would? On September 2, 1915, Watson delivered another prophetic clarion:
The North can rail itself hoarse, if it chooses to do so, but if [it] doesn't quit meddling with our business and getting commutations for assassins and rapists who have pull, another Ku Klux Klan may be organized to restore HOME RULE.18
On December 6, 1915, D. W. Griffith's movie The Birth of a Nation premiered in Atlanta. The film portrayed the post-war KKK rescuing the South from Northern carpetbaggers while avenging the death of a Southern girl who was killed by a morally deviant Negro. The movie resonated with the Georgians viewers much the same way that an earlier event resonated with those Georgians that witnessed it. Two weeks earlier on Thanksgiving eve, 34 men — Frank's executioners likely among them — assembled at an Atlanta hotel to bus guests up to the 1,700-foot summit of Stone Mountain. There stood a massive cross soaked in pitch and kerosene, secured earlier by Joseph Simmons, former Methodist preacher and current Imperial Wizard of the resurrected Klan. A match set the wood ablaze and the cross which pitched its glow for miles would summon the Klan to once again secure home rule.
The Aftermath and Charge
For years after the Leo Frank incident the Klan had measurable success in securing justice for the South's helpless. But after a while, when Southern fury had gotten the better of its members whose actions turned from corrective to malicious, the Klan disbanded. Unlike the Klan, which is now branded as a paradigm of evil, the clandestine and malevolent actions of Jewry continue.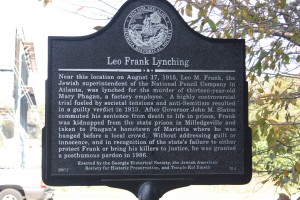 In 1913, the alleged injustice, hate and anti-Semitism exacted on Leo Frank birthed the Anti-Defamation League, which now exists to destroy the freedoms and lives of anyone who offers any rational criticism of Jews, and to eradicate any vestiges of the Southern spirit of white advocacy and preservation. Decades later, the same transgenerational mob, consistent with their Talmudic view of gentiles, would lynch the South and North alike by fronting legislation which now forbids whites to live among, hire, rent and sell to whomever they desire.19 In a 1986 act of chutzpa, the Jewish ADL again exhibited their own relentless self-advocacy by engineering a posthumous pardon of Leo Frank.20 And since 1913 Jewish control of media, politics, and university social sciences has grown to such near-terminal levels that the Phagans and Mariettans of the 21st century stand little chance in securing their liberties, preserving their blood, and defending their soil.
But the most somber warning does not pertain to the outsider. Worse than the augmented grip of Jewish control is the self-subjugation of the white man who has joined the perpetrator in assailing the victim. While the circumstances of Northern-forced Reconstruction and industrialism 100 years ago may have compelled Southern men to send their daughters to reviled factory posts, today's fathers willingly deliver their damsels to the far baser Judaic filth of unambiguous multiculturalism. One wonders if there are 500 men today who would put aside their Jewish television programming to rally behind any local cause, much less whether 5,000 would assemble for hours around a courtroom in summer's heat to support a kinsman. While the old watchmen had the integrity to secure justice over the dereliction of their leaders, the new guard, despite their numbers and arms, gladly yields to the same leaders' tyranny and joins them in vilifying their ancestors' noble vigilantism. The force of relentless Jewish propaganda is only exceeded by the intensity of self-loathing among whites who seem eager to face their full dispossession.
Perhaps the future holds a better fate for the Western race: a renaissance of Southern heart, a provocation of men who can hear the Celtic carnyx. Where are the Watsons? Where are the Dorseys? Where is Georgia and Marietta? Where are the awakened lovers whose hatred is perfect?
Notes:
Also see LeoFrank.org for a comprehensive database of data and articles on Leo Frank.
Comments
comments