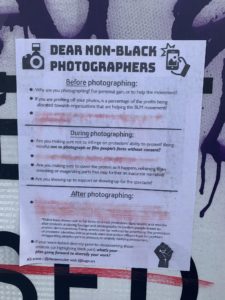 By Colby Malsbury
As America's seemingly perpetual double whammy of Covid Communism and Floyd Fanaticism causes life to resemble deleted footage from The Purge: Election Year, one can hardly expect the old established polities we have come to know and loathe to escape unscathed.
Of course, as Christians, we yearn and pray for societal regeneration in His image, but we aren't quite there yet, to put it mildly.
So, in a rather perverse parody of the tenets of Kinism, we first must witness the hyper-atomization of society into a zillion demonic component parts, every man, woman, or genderfluid for itself, purportedly fighting under the umbrella of 'racial justice'. Don't look for Mary Poppins to come sailing in ebulliently under that canopy. However, you can look to every white libtard desperately trying to protect his/her/its precious career sinecure to proclaim this chaos progressively ducky.
On that note, honky – bow down before the Great and Powerful Raz!!!
'Raz', of course, being Mr. Raz Simone, an aspiring rap singer (aren't they all?) who, after taking a typically flamboyant leading role in the Seattle outbreak of the BLM fracas inexplicably found himself in charge of some aberration dubbed the Capitol Hill Autonomous Zone (CHAZ) in the downtown core and awaiting diplomatic recognition from Israel and Justin Trudeau. In a gushing puff piece on Raz published in Forbes(and written, incidentally, by a white guy with an Irish name whose descriptive blurb reads in full 'I write actionable interview, career, and salary advice'), Wakanda-on-the-Puget is described thus: 'Capitol Hill is an urban residential district in Seattle that proudly boasts a vibrant nightlife, entertainment and is seen as the epicenter of the city's LGBTQ and counterculture communities.' The eponymous Raz, likewise, is profiled as 'a gregarious, open-minded, intelligent, enlightened, street-smart and business-minded person.'
In other words, CHAZ is our very own Haight-Ashbury, and Kang Raz is a veritable Sydney Poitier, had he been inclined to drop 'motherf***er' every other word during his scenes in Guess Who's Coming to Dinner. Brilliantly astute bit of sociological analysis there, Forbes. No wonder Hans Gruber from Die Hard subscribed to you.
Doubtless, Forbes is also enamored of Raz because he is inextricably loaded with bling. He owns tracts of some of Seattle's most valuable real estate, possesses a fleet of luxury cars, including a Tesla (instant cred with the post-racial white libertarian crowd!), and seemingly has no problem acquiring a mammoth cache of 'assault rifles' denied to the poor crackers who still have to get up every morning and make Washington state tick. Not exactly Straight Outta Compton, this one. Still, it's easy enough to be a sassy Negro when you have the financial backing of sources ranging from the government of Dubai to the ubiquitous Soros undergirding your Black Panther LARP.
Only in this mesmeric year of 2020 – ironically suggesting the clarity of perfect eye vision – could such a state of insurrection be allowed to stand fast for more than a few hours in the controlfreakocracy known as Zog. Yet there is no sense of urgency over this state of lawlessness from any WA officials. Indeed, the (female) mayor of Seattle, the (female) chief of police, and the (mostly female) city council have encouraged the continuing anarchy by deliberately withholding any efforts at reclamation and insisting that the Razervation is a tranquil utpoia. A Woodstock without mud, an Altamont without racist Hells Angels making a mess of things. An easy enough position to take when all it requires is a press release issued from within the safe confines of a lily-white gated community in the suburbs. Also bear in mind: these are the same people who are currently on their high horse condemning the likes of Robert E. Lee, Jefferson Davis, Wade Hampton, etc for being 'traitors'. Doubtless they believe that the Free State of Jones was a similar fiefdom headed by Van.
In short, for all its wokeful characteristics, CHAZ has about as much legitimacy as the Hutt River Principality in Australia….except the HRP doesn't feel the need to consistently beg for the most basic articles of foodstuffs, toiletries, and camping gear from well-wishers on the outside. And while we're on that subject, you would never in a million years guess just who is keeping CHAZ from degenerating into cannibalism during its nascent phase. A less-than-flattering article on CHAZ in the New York Postspills the beans for us:
In the midst of the restlessness and drug abuse that arises in and around CHAZ, acts of kindness and community support also flourish. Donations from outside have poured in every day, supplying the camp with multiple food and supply stations. The "No Cop Co-Op," the largest supply booth, distributes raw meat and fresh vegetables. Next to the tents in Cal Anderson Park, denizens have started rudimentary "farms" to grow lettuce and herbs. One farm is only for "black and indigenous folks." Those looking to make new friends can sit on one of the many sofas at the "Decolonization Conversation Cafe." Free coffee is served.
Outside donations? Food distribution? Dispensers of free coffee? You can bet none of this munificence is being spontaneously generated by the sons of Ham. As for those 'black and indigenous folk' gardens, you would be hard-pressed to find one that doesn't resemble the spot in the front lawn where the septic tank ruptured, and should you perchance find one that breaks the mold it will be a safe bet that that plot had a lot of volunteer help from Whitey to get established. I dunno – shouldn't a self-styled Autonomous Zone be….autonomous? But then, what can one expect? The somewhat larger autonomous zone of Liberia never exactly attained to superpower status, either.
Speaking of autonomous zones, there's a peculiar synchronicity to be gleaned from the whole BLM narrative. Isn't it peculiar that, during the ravaging of Minneapolis the eyes of whites were transfixed to the siege taking place at the local AUTO Zone store….and immediately following, those selfsame whites' eyes were directed to behold in horrific wonder the AUTOnomous Zone of Seattle? Of such seemingly simple wordplay are debilitating psy-ops created.
CHAZ itself is not likely to last past the summer, once the weather cools and the white virtue runs dry as other worthy 'causes' present themselves. Increasingly, it is being referred to as the Capitol Hill Organized Protest (CHOP) to downplay its extra-legal aspects. Still, the legs that it has shown to date proves conclusively that we must prepare to enter the Age of the Warlord, and any city large enough to harbor a black population must be accounted a Little Mogadishu. Already we are seeing a plethora of copycat autonomous zones attempting to get off the ground – in Asheville, Portland, Nashville, DC – and the fact that cops to date have succeeded in clearing out these pockets of infection before they can become established in no wise suggests that this trend is likely to wane. If the individual warlords ever get organized and start forging alliances with each other, just as their Crip and Blood forebears did…game over, white man. Not in the least because they will be afforded a media adulation utterly denied the likes of, say, Craig Cobb's ill-fated proposed autonomous white community in Leith, ND. It certainly does not help the underlying stability of these entities, either, that in a warlord society, one of the biggest dangers is junior warlord wannabes coming up from the ranks and challenging Mack Daddy for supremacy. They spend as much time fending off attacks from usurpers as they do from The Man. An obvious remedy to this dilemma would be for the warlords to lasso their spiritually constipated white devotees into doing all their dirty work for them. And, as the aforementioned Post article makes clear, this is precisely what is transpiring in CHAZ:
A large team of volunteers assembled to designate themselves "security" for CHAZ. Many of them wear patches signaling they're part of the Puget Sound John Brown Gun Club, a far-left militia-type organization named after the radical abolitionist. Last year, one of the group's members carried out an armed attack on an Immigration, Customs and Enforcement facility in Tacoma, Wash. Police said that Willem van Spronsen tried to ignite the 500-gallon propane tank attached to the facility. He was killed by police.
In case the Dutch name didn't give it away, van Spronsen was indeed a deluded white man who took on the mantle of black terrorism as a pagan means of atonement for his perceived sin of existing. Any whites trapped inside future autonomous zones can expect no more lenient penance. Liberation theology is a demanding beast.
The mention of left-wing militias brings up another salient point. If autonomous zones are the coming thing, why assume that they will be limited to black ones? When are the Hispanic, Pakistani, Vietnamese, and sodomite variants going to begin adding to the Caucasian butchery? After all, isn't Murika a multicultural mosaic where the pursuit of happiness reigns supreme? I would have included Red Indians in this list, but they already have their autonomous zones on their reservations, as any white unfortunate enough to have his car run out of gas in Pine Ridge can attest to. I would also have made mention of Jewish zones, but their municipally sacrosanct eruvs cordoned off with magical wire – such as the entirety of Manhattan – fit that bill quite nicely. All the zones that will be following can look to their Talmudic technocrats as their spiritual mentors.
As for me and my house, we secured autonomy from this heathen zeitgeist many years ago in our minds and souls. And my zone will consist of like-minded folks who seek out active fellowship to stand faithful against this demonic deluge of demagoguery. That's Kinism.
In the meantime, if Mt. Rainier threatens to vaporize Seattle, Raz can always file a genocide claim with The Hague.