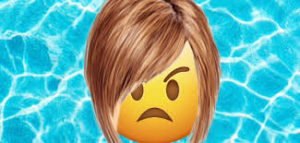 By Colby Malsbury
Simone de Beauvoir, the lesbian Stalinist who bedded Jean-Paul Sartre whenever there was nothing sufficiently sapphic around for her liking, once said 'one is not born, but rather becomes a woman.' Even in such a pithy statement, we can perceive the special kind of tyranny that the female is especially capable of, and culpable for – not as a mere agent of 'destiny', whatever that might mean, but as an active participant in and, if not a creator, then a domineering influencer of said destiny, all done for everyone else's good and not as a vulgar patriarchal power grubber, of course. If the squeaky wheel gets the grease, then the squeaking caterwauling of feminism has garnered its denizens an entire chain of Minit Lube franchises over the past century.
Of course, these days most women are no more privy to joining the 'big club that we ain't in', to paraphrase George Carlin, than most men are. They will never get the chance to play the role of a Bloody Mary, a Rosa Luxemburg, or a Jiang Qing, except maybe as a therapeutic LARP at the conclusion of one of their book club meetings. So they must settle for the petty euphoria that accompanies grassroots totalitarianism, just like the menfolk in local police departments and county commissioners' offices across the land must. And sated with the Disney princess ethos that has been endemic since at least Snow White as they are, what worthy vehicle could possibly present itself to give vent to all their unrequited dreams?
Enter a certain Chinese virus.
But first, a parenthetical bio about Karen.
Karen, of course, is the chronically unpleasant woman with the androgynous hair bob who never got around to reading the Proverbs 31 definition of a Godly woman because she was too harried closing various deals in Corporatopia that no one will remember even two years hence. Her petulant peevishness puts her in good stead to spend her leisure hours demanding to speak to restaurant managers, but now that that industry has gone by the wayside, what's a mannish girl to do? Why, take advantage of the officially sanctioned snitch culture to report people not social distancing, or not wearing a mask as soon as they venture away from their front porch, or buying too many bags of Fritos for their taste, or attending church, or any of the other myriad of hypothetical crimes that constitute the sociology of the Coronacaust. Karen is euphoric that the Wuhan flu had given her life vindication. No longer can her shrewish behavior be written off as mere spiteful and self-serving indulgence, but rather it can be heralded as front-line action – concerned action, naturally – against the scourge of our age. She is Florence Nightingale with a smartphone and a demonstrable lack of healing skills. She would have been far better off administering chicken noodle soup to her children when they came down with whooping cough, except she never married and her cats keep running away because they can't stand her, either. Her obnoxious insistence on making herself center stage during the largest and most blatant power-grab of our lifetimes has made her that rarity: a target of approbation from both the left and the right. We haven't seen such since the bipartisan Bronx cheer that sent John McCain off to gory….er, glory.
Don't be too hard on Karen, though. She has merely caught the prevailing winds of the zeitgeist, and is making for the open sea with all sails aloft. For make no mistake: the response to Covid-19 has been entirely feminine up to this point, and there is no reason to believe it won't continue to be so. In droves.
If 'a continual dropping in a very rainy day and a contentious woman are alike' (Prov. 27:15), then this entire imbroglio is akin to the roof of a tarpaper shack floating helplessly down the Mississippi river. Case in point: Michigan governor Gretchen Whitmer, whose advisors apparently never told her that ditching her trademark Cruella DeVille eyebrow pencil would go a long way towards building empathy with her voter base: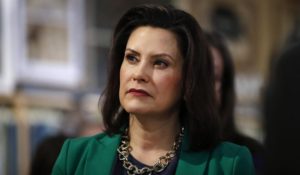 Nice dog collar, bull mastiff.
Is this the face of the Stasi or what? But perhaps that's unfair, as the Stasi concentrated on decidedly larger fish to fry than the millionfold middling meddles ol' Gretch has instituted as part of a policy of death by a thousand small cuts. Name your poison. Micro-managing 'allowable' purchases in grocery stores to include lottery tickets, but not garden seeds? Arbitrarily extending what already are some of the nation's most draconian stay-at-home orders so grotesquely into the future that many MI lawmakers are publicly questioning her sanity? Mandatory masks, as though one was attending an Illuminati ball? Justifying her hideousness by making this thing all about her and demanding sympathy for the 'gut-wrenching' decisions she has had to make? The entire pattern of nattering narcissism and inept usurpation of leadership, particular to fallen woman from Eve's time onward, is in full display with the raging of this Jezebel. She is the spiritual analog of those wretched biddies who sang 'we'll hang Jeff Davis from the sour apple tree' with gusto during the War of Northern Aggression – and like them, we can only pity the poor bastard who married her, while at the same time holding him in contempt for his obvious utter lack of discernment.
God takes a very dim view of anyone who would sugarcoat His judgments upon a reprobate people, yet the means by which women attempt to do so come in for a unique opprobrium. Witness Ezekiel 13:18-19:
And say, Thus saith the Lord GOD; Woe to the women that sew pillows to all armholes, and make kerchiefs upon the head of every stature to hunt souls! Will ye hunt the souls of my people, and will ye save the souls alive that come unto you?
And will ye pollute me among my people for handfuls of barley and for pieces of bread, to slay the souls that should not die, and to save the souls alive that should not live, by your lying to my people that hear your lies?
In her hubris, fallen woman believes it in her power to cushion God's judgments. Hence, she will weave a fabric of sweet-sounding contradiction in a misguided attempt to counter the coming blow at His hand. She will also blind the faces of those subject to Godly wrath with her homespun bandanas. Both of which obfuscations are in full evidence whenever Karen tells someone that they will be perfectly safe if they stay quarantined indefinitely, or that if they wear a mask in public at all times (including when driving a car solo) they won't kill anybody. And the scraps that are left standing in the grocery stores when Karen insists on enforcing her whims by brute force make handfuls of barley and pieces of bread look like a veritable feast in comparison. Yet all must be put under the authority of her Savior complex, that she might feel better about herself. An excellent example of this involves the increasingly desperate attempts to 'prove' the commonality of human-to-animal coronavirus transmission, with the obvious end game being a 'save the furbabies from the unclean!' campaign and a confiscation of livestock and pets from those who aren't sufficiently panicked enough for Karen's approval. Such people are are allowed no source of succor and comfort in the New Technocratic Order. None. Woe betide anyone suffering under feminist 'leadership' during any crisis situation!
The men do not get a free pass either – indeed, by failing in steadfastness to exert their Godly-ordained leadership role, they bear the brunt of the blame for Karen's rampage. This is perhaps most obvious in the behavior of that endearing sub-category of 'men', sodomites. They have followed in Karen's footsteps like good little seminarians, largely because at the core of their being they realize that they are fundamentally 'non-essential', and also because their various immuno-deficiency syndromes compel them to wear garish scarves whenever they get the sniffles, even in the dog days of August. And, hey, isn't it some kind of peculiar that the hot trending show on Netflix has been Tiger King, about a flamboyant meth-addled 'redneck' homosexual doing schtick that would make Siegfried and Roy cringe? A little bit of societal mind-meld at play, there, Netflix CEO Michelle Obama? And would even the men of Sodom be likely to hang upon the proclamations of a beast like Pennsylvania's transgendered health secretary "Dr." "Rachel" (((Levine)))? When your entire name and job title cannot pass muster without qualifying punctuation, you know that something is gravely amiss.
Still, is their response any more effeminate than the various purported male heads of state government? I perceive little of the character of Edward the Confessor in the mammarian overreactions of Northam of Virginia, Cuomo of New York, DeWine of Ohio, most especially Trudeau of Canada, and a host of other bureaucratic omegas hoping that the preponderance of women voters in the past few election cycles will compute into Karen corraling all her stupid friends and getting them to vote the incumbent back in come November. Some girding up of the loins, hey? There can be little doubt that this insipid crew of mountebank muffs warrants at least its own full company in Knox's monstrous regiment of women. Tis only befitting and just, then, that the latest hot take as to how men can most effectively combat coronavirus is for them to take heaping helpings of estrogen as part and parcel of their morning protein shake. As to why such men would want to save their lives in a permanently neutered state is another question entirely.
Where does all this feminist hoopswaddle leave us in the foreseeable future? It ain't promising. I cannot improve on the words a friend of mine posted on Facebook in regards to our current lot:
*Most* men cannot hold to a moral resolve in the face of unified female disapproval. And *most* women are on the wrong side of *most* issues. So any true liberty movement remains paralyzed.
Adding at the end a most disheartening codicil:
At least until an issue arises that sparks women's collective conscience in the right direction.
That being the case, would to God that said issue prompts Christian women into shaming the Judeo-Churchian men into taking up the cudgels, as became necessary with Deborah.