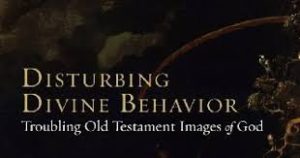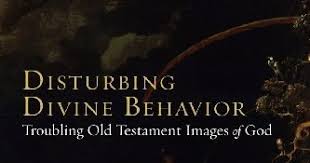 By Davis Carlton
One of my Facebook friends recently posted that we are approaching the year 2020, the first year of the decade in which ostensibly conservative Christian denominations will capitulate on the sodomite agenda. I think he's right. There may be a few stragglers by the end of the upcoming decade, but I believe that traditional Christian orthodoxy will be mostly dead by the end of this next decade. A book I recently read helped me to understand how purportedly conservative Christians are abandoning the authority of the Bible and any semblance of Christian doctrine. The book is Disturbing Divine Behavior: Troubling Old Testament Images of God by Eric Seibert who is a professor of Old Testament at Messiah College. I borrowed this book thinking that it would wrestle with difficult texts in the Old Testament. What I found instead was an altogether radical proposal in which the author suggests that the traditional Christian understanding of divine inspiration is wrong and needs to be replaced.
Eric Seibert suggests that we abandon the plenary divine inspiration of the Scriptures in favor of a "Christocentric hermeneutic."1 Seibert believes that the "God that Jesus reveals" is thoroughly distinct from the portrayal of God found in the Old Testament. Seibert suggests that the solution to examples of "disturbing behavior" of God presented in the Bible is to give a certain primacy of place to the specific words of Jesus given in the Gospels. Seibert believes that the teachings of Jesus contradict depictions of God in the Old Testament in which God is portrayed as wrathful and vengeful. It is immediately obvious that this position necessarily entails many problems and utterly fails as a viable paradigm for maintaining any semblance of orthodoxy.
The most obvious problem with this hermeneutical principle is that it ignores what Jesus actually teaches. Jesus consistently appeals to the authority of Old Testament revelation and castigates his opponents for not knowing or believing the revelation given through Moses and the Prophets. Jesus explicitly states that he did not come to abolish the Law but to fulfill it (Matt. 5:17-19), and to fulfill as the Messiah what was predicted of him in the Law and the Prophets (Lk. 23:13-32). Jesus is revealed to be the God of the Old Testament who revealed himself as the great I AM in the burning bush to Moses (Ex. 3:14/John 8:58). Finally Jesus himself taught that the Scriptures are divinely inspired and without error and thus "cannot be broken" (John 10:35). Seibert's "Christocentric hermeneutic" ultimately must ignore what the New Testament teaches about Jesus and what Jesus says about himself.
Seibert claims that his methodology isn't arbitrary and cannot simply be used to reject Scriptures that we don't like, but this is exactly what he does. Seibert has enough knowledge of Scripture to know that the New Testament portrayal of Jesus doesn't support his agenda of pacifism and universal tolerance. What is his solution? Seibert suggests on page 187 that there are "distortions between the textual Jesus [revealed in the New Testament] and the actual Jesus." How convenient! Seibert appeals to the Jesus Seminar as a reliable source of textual criticism and dismisses many instances in which Jesus speaks about temporal and eschatological divine judgment. This is done without any meaningful discussion of manuscript evidence or ancient attestation of the passages in question. All Seibert's readers are told is that modern "scholars" question these passages so we can feel justified in dismissing them as well.
Eric Seibert is from an Anabaptist background and so his goal is to adapt the teachings of Jesus to fit his preconceived notions of absolute pacifism and non-violence. The problem is Seibert's "Christocentric hermeneutic" is too arbitrary to prevent professing Christians with even more radical agendas from using this same methodology to advance their own narratives. A good example of this is a recently published article by a liberal Franciscan Catholic priest who is reposting an article originally published by a liberal Methodist minister.2
The article is specifically addressing the morality of homosexuality and utilizes the very same "Christocentric hermeneutic" championed by Eric Seibert. The first paragraph is particularly noteworthy and is worth reproducing here, "Where the Bible mentions [same-sex sexual] behavior at all, it clearly condemns it. I freely grant that. The issue is precisely whether the biblical judgment is correct. The Bible sanctioned slavery as well and nowhere attacked it as unjust. Are we prepared to argue today that slavery is biblically justified? [Over] one hundred and fifty years ago, when the debate over slavery was raging, the Bible seemed to be clearly on the slaveholders' side. Abolitionists were hard-pressed to justify their opposition to slavery on biblical grounds. Yet today, if you were to ask Christians in the [U.S.] South whether the Bible sanctions slavery, virtually everyone would agree that it does not. In the same way, fifty years from now people will look back in wonder that the churches could be so obtuse and so resistant to the new thing the Holy Spirit was doing among us regarding [sexuality]."
This paragraph is entirely accurate regarding what the Bible teaches about slavery and how almost all professing Christians would recoil in horror at this teaching. The solution that this minister offers is to simply ignore Biblical teachings that we find unpalatable. The continued acceptance of homosexuality among professed Christians today is strikingly similar to the acceptance of abolitionism in the 19th century in that both positions entail a rejection of clear Biblical teaching. For those seeking to reconcile homosexuality or any other radical agenda with the profession of Christianity the tactic they will utilize is fairly straightforward.
Step 1: Affirm a "Christocentric hermeneutic" in which all Scripture is supposedly filtered and re-interpreted from the perspective of "the God who Jesus reveals."
Step 2: Argue that Jesus stood against oppression and defended the downtrodden and marginalized in society. This is argued in a way that is sufficiently vague enough to fit virtually any Leftist agenda.
Step 3: Cite a few isolated sayings of Jesus without any context or meaningful exegesis, while ignoring or even impugning passages that are contrary to the perspective being promoted. If Jesus himself seems to teach contrary to a particular Leftist agenda, dismiss the passage as spurious.
This is the strategy that ostensibly conservative Christian denominations will use to promote radical Leftist agendas like sodomy, socialism, and mass non-white migration into white homelands. Homosexuals will be considered the "downtrodden and oppressed" class of our own time that Jesus most certainly would have advocated for if he was ministering to us here in the present. The same will prove true of transgenderism as well as virtually anyone who feels themselves traumatized by the white male patriarchy. This is already happening as prominent Southern Baptist "racial trauma" counselor Kyle Howard recently described The Bible and Truth itself as potential idols that "white supremacists" cling to in their struggle against equality.3 This is especially remarkable since Christ identifies himself as The Truth (John 14:6). Nothing will be allowed to stand in the way of egalitarian "progress."
All of this is to say that the immediate future will mark a deep and unmistakable line in the sand. I fear that many who are considered "solid, Bible-believing Christians" will be on the wrong side. The slavery question was in many ways the opening salvo in this war for Christian ethics, and many Christians today simply assume that the abolitionists were right and that their position is compatible with the doctrine of the plenary inspiration of the Bible. Liberals often quip that the grandchildren of opponents of homosexuality will look to them and revile their "homophobia" in the same way that they revile the purported "racism" of their own grandparents. I believe that they are correct, but only because professing Christians continue to retreat from the authority of the Bible and what the Bible actually teaches about morality.
 Recent history has witnessed the rejection of traditional national identity and traditional private property is soon to follow as a vestige of the "oppressor class." The future will see similar battles being fought over important foundational moral issues like the immorality of homosexuality and even the reality of biological sex. The end result will be to demonstrate that Kinists have been right about these questions all along and that our views naturally arise from a serious and consistent commitment to what God has revealed. The Devil tempted our first parents in the Garden by asking "hath God said…?" and this same question is being posed to Christians today. Many of our Christian ancestors could not imagine how professing Christians could ever possibly get these fundamental moral questions so wrong. The answer is simply that many who profess Christianity today answer the Devil's question to Eve, "hath God said," with increasing confidence, "No."
1 This is essentially the same principle as Gregory Boyd's "Cruciform hermeneutic" that he uses to denounce all violence and promote his open theism that is featured in his book, Crucifixion of the Warrior God.
2 This reposting was tweeted by liberal Jesuit priest James Martin and has caused a bit of brouhaha in Catholic circles.