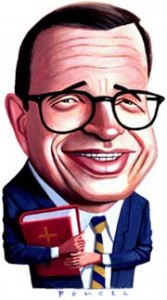 Chuck Colson piece, Racism and Repentance, is beyond pathetic. It is always the ethics that our Christian leaders merely assume that are so offensive to real Christian politics, and so destructive to a Christian (or any) culture. Let's highlight a few of these assumptions.
There is no doubt that the election of Barack Obama as the 44th President of the United States was historic. I couldn't help but wonder if we had not finally entered a time when, as Martin Luther King so famously said, our children would "not be judged by the color of their skin but by the content of their character."
How can conservative man who has made a career in politics call Obama "President" when Obama has spend over 2 million dollars on attorneys to hide his BC? Even if Obama were a natural born citizen, he would still be disqualified by virtue of the illegal 14th amendment that allows non-whites to serve in public office. Moreover, how can any man of ostensible Christian virtue continue to quote favorably the fraudulent and adulterous MLK? Admittedly, Colson's assumption that Obama is President is tangential to the article, but it is still a glaring mistake that should never be made.
But humans being what they are-fallen creatures-we will always struggle with sin. And racism, like all sins, will be always be crouching at the door. Even within the church.
Here is the assumed sin of "racism". Does any egalitarian ever care to define this nebulous concept? In a day where everything is racist, from hatred toward one based on skin color to police profiling, from scientific observations about IQ test and crime rates to the KKK membership, this seemingly nastiest of all sins should be defined before it is used to tar others. As one author put it, we dare anyone who accuses one of racism to 1) define it, 2) show why it is sinful, and 3) show how the accused is guilty of it. But this is never, ever done.
First Baptist had struggled with racism since the 1960s. On Easter Sunday in 1963, the Rev. Earl Stallings, who was then the pastor, had welcomed African-American Freedom Riders to the church, but the ushers refused to seat them. Still, Martin Luther King commended Rev. Stallings later that week in his famous "Letter from Birmingham Jail."
Okay, we have an implicit definition (or at least a casuistic example): racism is when white church officials deny blacks entrance to their church. Now Colson needs to show why it is evil for groups to define their memberships. In Deuteronomy 23:3 God banned for life certain racial groups from ever entering the assembly. Historically, racial segregation in churches was a procedural law to protect against racial amalgamation. It had nothing to do with keeping the gospel from blacks. Blacks had their own church leaders and were welcome to hear the gospel among their own kin.
Kant's deontological ethic is helpful here. Does the neo-conservative Colson wish to universalize a principle that would encourage the extinction of the race for which his posturing seems to have sympathy? the extinction of his own race? There are two options, either it is morally right to continue the racial distinctions of God's providence and prescription (Genesis 10:5, 32; 11:8; Acts 17:26; Deut 4:19; 32:8; 27:17; Proverbs 22:28; 23:10), or it is wrong and we should push towards a one-world, mocha-colored people. The latter is to rage against western civilization pre-1950 and even our own ancestors, immediate or remote. The former position, if true, naturally calls for the freedom for groups to define their memberships and set their landmarks. The latter is treason against one's own race and accessory to aggressive, murderous invasion. Period
Stallings would later be honored for his efforts at racial reconciliation, but the church, which he left in 1965, continued to be divided. As late as 1970, the First Baptist congregation voted to deny membership to African Americans. With that the church finally split, and a new church was formed.
So encouraging racial amalgamation is to be honored? Judgment always begins with the house of God and when race-mixing pastors fill the front lines doom is our hope. Sure, the cryptocrats [here and here] are guilty for legislatively setting the stage for 37,000 black men on white women rapes a year, as are the negroes themselves; but the high-handed sin of our pastors who bare a stricter judgment should makes us righteously indignant.
But what of the old church? Dr. Lewis says, "Over the next few decades First Baptist Church would continue to decline in membership and influence." During these years the church "stumbled and lost its identity…The church struggled with strife over theological and cultural issues."

That's no surprise, is it? When a church follows cultural instead of scriptural standards, theological troubles are certain to follow. In 2009, Dr. Lewis, new in the church, decided it was time for the church as a body to repent of its sin. He preached a message of "corporate repentance" from Nehemiah chapter 1.
True, Chuck, it is no surprise that a church that would follow a novel political correctness which denies the old paths would decline in membership and influence, and lose its identity. When you force a new, foreign identity on something it invariably loses its old and natural one!
How ironic are Colson's words, for he is precisely right that when a church follows culture rather than Scripture troubles are sure to follow. On racial issues even the sharpest most experienced political and Christian leaders cannot properly distinguish Scriptural from cultural norms.
The deacons led the congregation in a "time of confession and repentance," and the church went through a period of prayer, fasting, and reaching out to other churches for guidance. "Since that time," Dr. Lewis told me, "we have seen more people baptized and join our church than ever before. There is a sense of freedom from past sin."

I think this is a wonderful model for any church to follow when it confronts corporate sin-whether it's the sin of racism or anything else.
It's always chaps my rear when people apologize on the behalf of people for something those people would never apologize for. The apostate PCA church once apologized for the racist views of their forefathers. Warm and fuzzy love fests always produces a "sense" of something, but be assured it is not freedom from past sins. God's law demarcates the boundaries of freedom, and it never condemns confining church roles to a given race. It could hardly be a model of justice to confront something that is not sin,  and then to apologize for those who were never and would never be apologetic.
As Christians, we cannot change the past. But we can be accountable to God for what we do now. We can appeal to Him for forgiveness, restoration, and direction. Then and only then can we really be free to be God's people.
Then you still have time, Chuck, to repent of writing this bad article which denounces segregated churches as a sin, encourages race-mixing, and thus blasphemes God by identifying a unitarian, egalitarian principle of racial suicide as God's will, and thus His own character.
Comments
comments