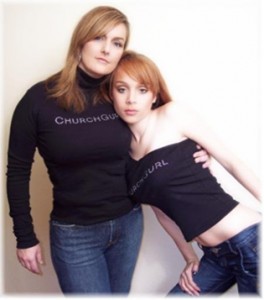 General Immodesty
You know your church service is an epic fail when the pastor's wife wears yoga pants. Good old, spiritual, bible-study-attending, church chicks these days either where tight clothing (showing every curve and crevice) or skin-revealing clothing (literally showing every crevice).
I would like to ask you men, fathers, and husbands of such hooker-wannabees–WHY? How can you have no shame (Jeremiah 8:12)?
Possible answers:
They like to show off their prize. Which means they have a twisted sense of loyalty to their wife. I don't want any man seeing my wife in that way but me. I have a jealous love for my wife. You unfaithful prize-toting boys apparently have a lusty love for yours—one that you like sharing with us. But no thanks. Your "wife" couldn't handle the duties my wife has.
They're ignorant of modest standards. Then turn your TV off, quit looking at porn online, and your sensibilities will eventually return. You'll soon rebuke your wife for dressing like a hooker. And you'll actually appreciate her in a way that no other man can.
They're aware of modest standards, but showing cleavage and tight cheeks are fair game. Same advice as above.
Pregnant Immodesty
What is up with pregnant women showing the bare belly in photographs? This would be pornographic in any other context. If anything, this stuff is more pornographic because it brings into the equation an innocent baby. What is up with you people?
Solution
Let's not leave the Church of Skin in darkness. Let's be positive and solution-seeking.
Here's my advice:
Men, educate your daughters from a young age to hate immodesty and love modesty. This means discarding the TV (as you have no control over commercials even while watching a decent program), choosing Cinderella over slutty Ariel, and not allowing them to appreciate "godly" women at church who dress like tramps. Be a separatist before you be a schmoozer.
Pastors, be ready to resign or address the immodest women in your church. You are to use ALL of the word of God to train men in righteousness, even if it means a small tithe base. If you can't deal with a small church, resign from the ministry for "personal reasons" because God will judge you–even as he is already by allowing the majority of the girls in your church to dress like sluts with complete hunky-dory acceptance.
Women, dress modestly immediately. Keep all your curves and skins for your husband. Tell him you need him more than ever, and that you feel like every other man is a dog and sees you as meat, and that he is morally aloof. In our day don't count on your hubby to set the example: do it yourself. Honor your body, yourself, and your husband's good name by keeping yourself covered, your husband happy, and the church pure. Some day you're husband will follow your lead, and be a leader himself. Then the golden (normal) days will have arrived!